Fantastic Foot Massage
If you want to feel like you are walking on air, then this is the massage for you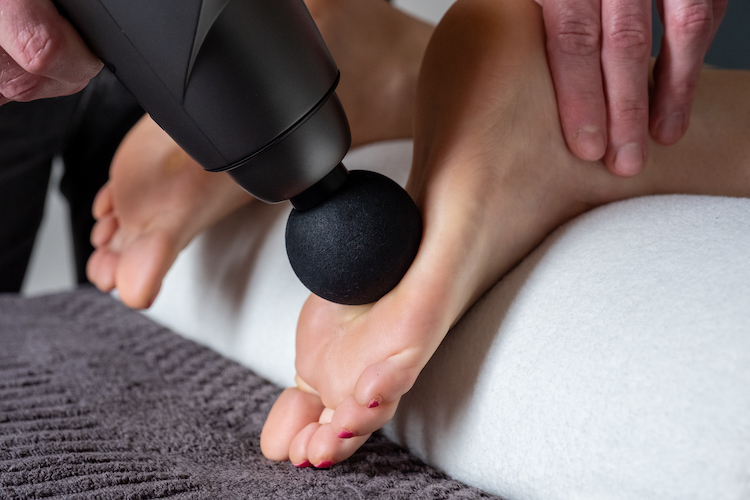 The foot is an incredibly complex biomechanical structure and takes an awful lot of pressure and strain each day, distributing your bodyweight with each step through its 33 joints and 26 bones. Some of us spend a disproportionate amount of time stood up (think of working on a shop floor, etc), others may have a slight pronation or supination of the ankle (an inwards or outwards tilt) which can lead -over time- to tightness and discomfort in the foot. As always, there are a great many factors which can contribute to a problem in this area.
The Fantastic Foot Treatment makes use of a blend of specialised equipment, anatomical knowledge, and some really effective massage techniques. It'll target the main structures of your feet to leave them looser, more relaxed, and more ready to do the many important jobs they do.
Importantly, the FFT is deeply relaxing, too! You can have it as a standalone for 30 mins or combine it with other treatments to create something that works for you. Speak to your MMC therapist to find out more.
Duration: 30 mins, or as part of a longer treatment
Therapists: All therapists
Opening Hours
Mon: 11.00am - 9.30pm
Tue: 7.00am - 9.30pm
Wed: 9.00am - 3.30pm
Thurs: 7.00am - 6.00pm
Fri: 8.30am - 9.30pm
Sat: 7.00am - 9.30pm
Sun: Closed
All appointments booked in advance, give us a call if you need to.
"A very professional set-up, lovely treatment rooms and plenty of parking."