Gua Sha Facial Massage
A power-packed and profoundly relaxing treatment that captures the wisdoms of ancient Chinese medicine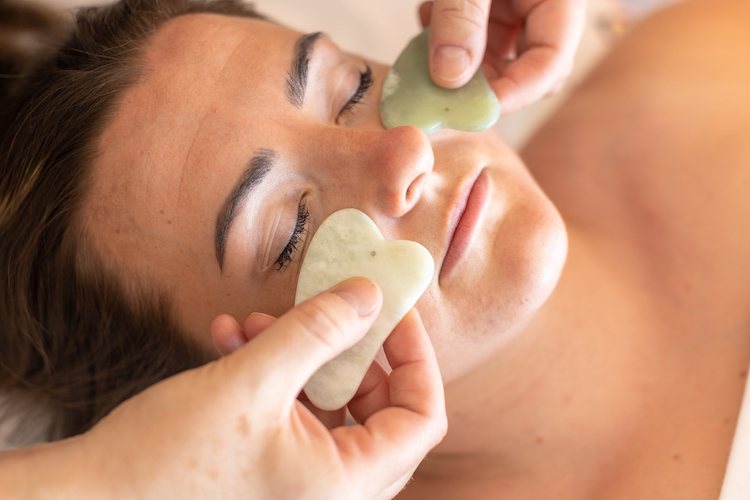 We all know that our faces can reflect the stresses and strains of modern day living and that the skin of the face can become tired and lacklustre. Gua Sha is the perfect affordable antidote, with all of the benefits but none of the expensive products to buy afterwards.  Exquisitely contoured Rose quartz and Jade tools are used to enhance the effects of specialised aromatherapy facial oils in this treatment.
Cooling jade and rose quartz are juxtaposed with hot towels to enhance and promote the healing and regeneration of the delicate facial skin, the powerful effects of Gua Sha massage continue onwards to firm and tone more than 20 muscles in the face, this really is a power-packed facial massage like no other.
Our specialist therapist, Sharon, is the only one qualified to provide this treatment within Massage Matters Clinic, and you are assured of a fabulous experience.
Gua Sha facial massage is enjoyed by many of our regular female guests, but is now benefitting our male guests as well!
The Facial Treatment
Double cleanse

Gentle exfoliation

Eve Taylor pre-blended facial oils applied to the skin

Relax – your Gua Sha treatment is about to begin
DURATION: The Gua Sha Facial treatment is 45 mins. You can book this as a stand-alone treatment, or combine it with a body massage treatment.
If you have any skin concerns please contact us before you book.
Opening Hours
Mon: 11.00am - 9.30pm
Tue: 7.00am - 9.30pm
Wed: 9.00am - 3.30pm
Thurs: 7.00am - 6.00pm
Fri: 8.30am - 9.30pm
Sat: 7.00am - 9.30pm
Sun: Closed
All appointments booked in advance, give us a call if you need to.
"A very professional set-up, lovely treatment rooms and plenty of parking."