Leg Pain
Your lower legs are crucial for movement and balance. Many muscles of the leg benefit from massage therapy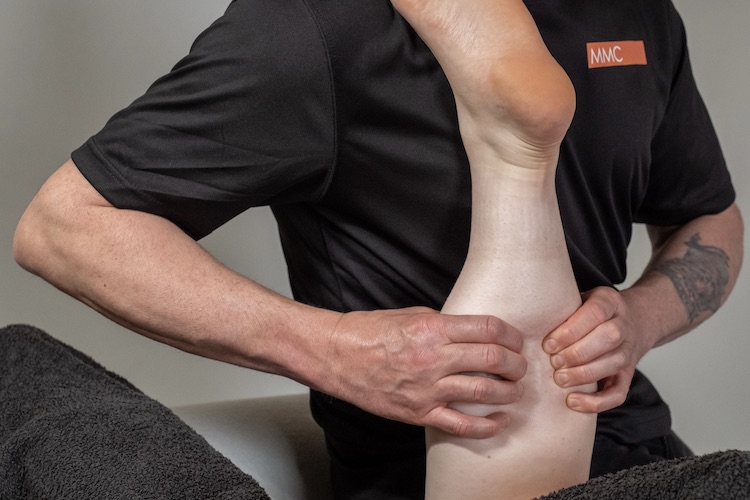 Injuries to the lower leg (below the knee) can be incredibly frustrating, affecting everything that we do. The muscles in this area assist the knees every time we need to take a step, but they also manage and control the actions of the ankle joints and feet. This means that it is not only our movement that they are integral to, but our balance and proprioception as well. If you want to keep moving well throughout life, this is one of a few critical areas to protect and preserve.
At MMC, the most common problems of the leg that we see relate either to issues with the calf muscles on the posterior (back) of the leg, or problems with the tibialis anterior muscle, found on the shin anterolaterally (front and outside). You may be aware of a muscle called gastrocnemius, the two bulbous heads of the calf, but very few are aware of the muscle that underlies the gastrocnemius called the soleus and the cause of many calf problems particularly for those that are into exercise.
If you come in to see us about a leg issue, we take a very methodical approach to treating problems of the legs and often spend time teaching the appropriate strength or more commonly stretch exercises to help resolve the problems. Alternatively, just coming in for a general lower leg massage can be hugely beneficial, freeing you up to move, exercise, and generally get around.
Duration: Part of a deep tissue or sports massage
Therapists: John, Tom, Hannah, Stephen
Opening Hours
Mon: 11.00am - 9.30pm
Tue: 7.00am - 9.30pm
Wed: 9.00am - 3.30pm
Thurs: 7.00am - 6.00pm
Fri: 8.30am - 9.30pm
Sat: 7.00am - 9.30pm
Sun: Closed
All appointments booked in advance, give us a call if you need to.
"A very professional set-up, lovely treatment rooms and plenty of parking."