Shoulder Pain
A good quality shoulder massage can make the world of difference, reducing pain and stiffness, and promoting flexibility and mobility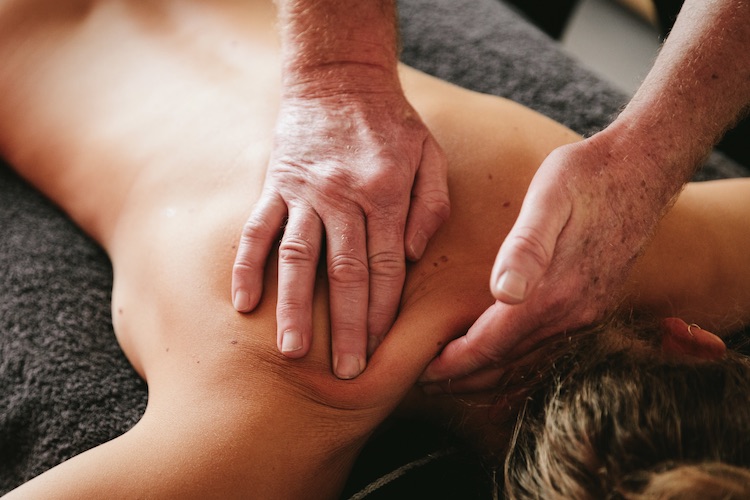 Your shoulders are constantly in use. Whether you're lifting heavy objects, driving for for hours each day, or just sat at a desk, most of the time there is at least some moderate tension running through them. But, not only are they constantly used for physical things, they can also be engaged for emotional and psychological reasons – for example, we find that people often raise their shoulders in response to stressful situations or environments. The more prolonged the stress, the tighter the muscles of the shoulders can become.
The anatomy of the shoulder is complex, but in general there are a few key muscular areas which tend to cause particular problems – the rhomboid muscles on the inside of the shoulder blade, the 'clicky' levator scapula muscles at the top of the shoulder, the trapezius or 'upper traps', the area around the ball-and-socket Glenohumeral joint, and the area towards the front of the chest, the 'pecs' or pectorals.
The issues at the shoulders often can't be divorced fully from tightness at and around the neck on the one hand, nor from issues stemming from further down, into the thoracic or lumbar spines, the sacrum and pelvis, or even further down into the lower limbs and feet. So, it's quite likely that a shoulder massage with us will involve an assessment to figure out what else is going on for you, both above and below the shoulders.
One thing is certain, a good quality shoulder massage can make a perceptible, ongoing difference to the muscles in the area, reducing pain, stiffness and restriction, and improving mobility.
Duration: Bookable from 60 to 90 minutes
Therapists: All therapists
Opening Hours
Mon: 11.00am - 9.30pm
Tue: 7.00am - 9.30pm
Wed: 9.00am - 3.30pm
Thurs: 7.00am - 6.00pm
Fri: 8.30am - 9.30pm
Sat: 7.00am - 9.30pm
Sun: Closed
All appointments booked in advance, give us a call if you need to.
"A very professional set-up, lovely treatment rooms and plenty of parking."